UCAT-1-10-INCHES
Features
Self-powered Unwinder
Handles labels up to 255mm wide
Roll diameter capacity up to 300mm
Available for 38, 40, 44, 70, 76 and 100mm cores
Same speed as the printer
Description
The Classic Labelmate self-powered Unwinder with Adjustable Speed-Proportional Braking.
The UCAT-1-10-INCHES handles labels up to 255mm (10-inches) wide and will unwind a roll of labels up to a 300 mm diameter.
Rugged, heavy-gauge steel construction allows your UCAT-1-10-INCHES Unwinder to be simply set in place. Special anti-slip feet keep the unit from moving.
Reliable, high quality and maintenance-free, the Heavy-Duty CAT Label Unwinder features a 5-YEAR PARTS and LABOUR LIMITED WARRANTY, the longest in the industry.
P/N: LMU005
Videos
UCAT-1-UNPOWERED UNWINDERS
Related products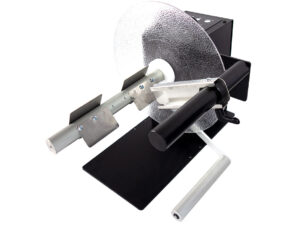 UNI-CAT-10-INCHES
Handles labels up to 255mm
Roll diameter capacity up to 300mm
Available in 38/40/44/50/70/76mm
Speed up to 80cm/s
Max roll weight 10 KG
Request quote
Immediately a non-binding offer
Would you like to know all the benefits that Labelmate can offer you? Quickly find out how it will help you with your logistics! Please enter the following details and we will send you a non-binding offer. We look forward to hearing from you
Request a quote